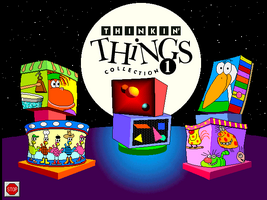 Thinkin' Things Collection 1 is a 1993 computer game by Edmark.
Here are the games be completed.
Oranga Banga - Oranga Banga the orangutan played instruments using games to "create" & "questions & answers".
Feathered Friends - Make your feathered friends designing games to guess the feathered friend.
Flying Spheres - Create your musical murals to design the spheres floating.
BLOX - Flying Shapes - Create your own shapes making your wacky sounds.
Toony Loon - Toony Loon played the original creating your funny xylophone.
Fripple Shop - Find the right fripple to every visitors to give them want.
Ad blocker interference detected!
Wikia is a free-to-use site that makes money from advertising. We have a modified experience for viewers using ad blockers

Wikia is not accessible if you've made further modifications. Remove the custom ad blocker rule(s) and the page will load as expected.