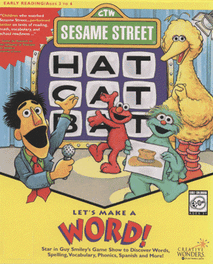 Sesame Street: Let's Make a Word! is an educational children's computer program was made in Creative Wonders from 1995.
Here they are, the Muppet Pals of Sesame Street: Big Bird, Elmo, Oscar the Grouch, Rosita, Two-Headed Monster and Zoe are here tonight for a fabulous fun game show and to visit a place for picked: the park, the farm, the restaurant and the building site.
Discovered children we'll be laughed and learn.
Ad blocker interference detected!
Wikia is a free-to-use site that makes money from advertising. We have a modified experience for viewers using ad blockers

Wikia is not accessible if you've made further modifications. Remove the custom ad blocker rule(s) and the page will load as expected.