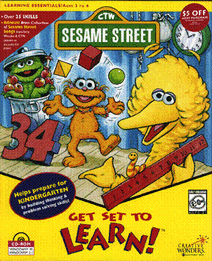 Sesame Street: Get Set to Learn! is an educational children's computer program was made in Creative Wonders from 1996.
The Muppets are Back, here they are on Sesame Street: Cookie Monster for Kooky Cookie Game, Zoe for What Size is Your Prize?, Count von Count for Match the Moons, Dunk or Dare for Oscar the Grouch and Count it Up, Up, Up for Big Bird.
children you'll loved the fun-filled game show that brings the learning styles of wacky, zany and fun for learning!
Ad blocker interference detected!
Wikia is a free-to-use site that makes money from advertising. We have a modified experience for viewers using ad blockers

Wikia is not accessible if you've made further modifications. Remove the custom ad blocker rule(s) and the page will load as expected.