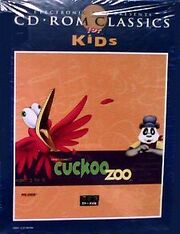 Ping and Kooky's Cuckoo Zoo 
is a children's PC computer game, which was made in 1993 by EA Kids.
children can revues animals from the zany zoo can be arrived with Ping the Panda and Kooky the cuckoo bird, for 5 amazing and wackly animal experts including: Africa, Rainforest, Farm, Antartic and Band Concert.
Ad blocker interference detected!
Wikia is a free-to-use site that makes money from advertising. We have a modified experience for viewers using ad blockers

Wikia is not accessible if you've made further modifications. Remove the custom ad blocker rule(s) and the page will load as expected.