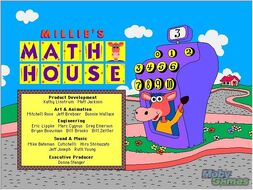 Millie's Math House is a 1992 computer game by Edmark.
Here are the games be completed.
Little, Middle & Big - Little, Middle & Big compared the shoes for the right thing.
Mouse House - build a Mouse House to click on every shapes to used.
What's my Number - put the same number of things on the left side as the right.
Bing & Boing - with Bing and Boing, children can help to make solve patterns.
Build a Bug - with Build a Bug to make your own creativity bugs.
Number Machine - with the Number Machine, kids can make numbers with critters including: lizards, bees, mice & worms.
Cookie Factory - In the Cookie Factory, each discovering cookies with Harley and his pet frog.