Mighty Math Carnival Countdown is a computer game by Edmark.
Here are the games be completed.
Carnival Cars - Elephant Allison wants to help putting these bumper cars.
Bubble Band - Help Exact Eddie the animal wants to count the bubbles higher.
Pattern Block Roundup - using create your design your shapes.
Snap Clowns - count the clowns as you go along to add numbers.
Giggle Factory - create your laughs to your own scales.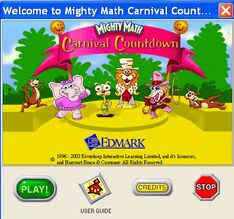 Ad blocker interference detected!
Wikia is a free-to-use site that makes money from advertising. We have a modified experience for viewers using ad blockers

Wikia is not accessible if you've made further modifications. Remove the custom ad blocker rule(s) and the page will load as expected.