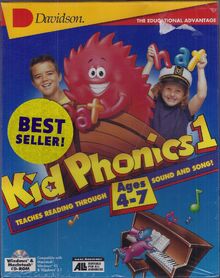 Kid Phonics 1 is a children's educational computer game was published and made from Davidson & Associates in 1994.
Words from the Rainforest
Snake
Monkey
Vine
Bat
Bee
Parrot
Beetle
Ant
Spider
Flower
Grasshopper
Anteater
Butterfly
Frog
Gorilla
Words from the Farm
Goose
Pig
Gate
Goat
Kite
Egg
Mouse
Horse
Sheep
Hay
Rooster
Barn
Tractor
Turkey
Farmer
Words from the City
Bus
Boy
Car
Dog
Baby
Taxi
Light (Traffic Light)
Girl
Jet
Truck
Hydrant
Umbrella
Motorcycle
Helicopter
Flag
Ad blocker interference detected!
Wikia is a free-to-use site that makes money from advertising. We have a modified experience for viewers using ad blockers

Wikia is not accessible if you've made further modifications. Remove the custom ad blocker rule(s) and the page will load as expected.