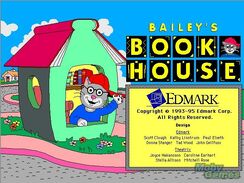 Bailey's Book House is a 1993 computer game by Edmark.
Here are the games be completed.
Edmo and Houdini - playing over, under, behind, on & in game with Edmo and Houdini as they search to make opposites.
Letter Machine - with the letter machine, kids can used games to teach letters about animals and comparing things.
Make Your Own Story - make a story with Harley, Millie, Dorothy and Sammy.
Read a Rhyme - with Read a Rhyme, children can help to guess the lovable rhyme.
Make a Card - making a card to put stamps your very own.
Ad blocker interference detected!
Wikia is a free-to-use site that makes money from advertising. We have a modified experience for viewers using ad blockers

Wikia is not accessible if you've made further modifications. Remove the custom ad blocker rule(s) and the page will load as expected.